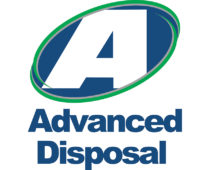 Advanced Disposal offers waste disposal, collection and recycling services for residential, commercial, industrial and construction customers. 
As a full-service environmental services company, Advanced Disposal (NYSE: ADSW) is ready and able to meet your waste collection needs. We provide collection, transfer, disposal and recycling operations to more than 200,000 commercial customers and 2.8 million residential customers throughout Alabama, Florida, Georgia, Illinois, Indiana, Kentucky, Louisiana, Maryland, Michigan, Minnesota, Missouri, North Carolina, Pennsylvania, South Carolina, Tennessee, Wisconsin and the Bahamas. We have more than 3,200 trucks running routes daily.  And we offer a full range of services, including:
Residential
Commercial
Recycling
Roll-Off Containers
Special Waste
Landfills
Transfer Stations
On the surface, that may not seem very different from other waste collection companies. But at Advanced Disposal (NYSE: ADSW), it's not the "what we do" that sets us apart, it's the "how we do it" that makes us special.
And we're environmentally responsible and committed. Our operations follow all local, state and federal laws in regard to environmental protection. We've carefully developed and operate cutting-edge, environmentally safe waste disposal facilities, and we continually provide the most up-to-date environmental solutions for non-hazardous waste reduction and disposal. The bottom line is, Advanced Disposal (NYSE: ADSW) has the operational expertise, management strengths, financial capabilities and commitment to quality and the environment. And we'd like nothing more than to have the opportunity to provide you with quality service, and to care for your business, home or community with the unfailing responsiveness and reliability we're known for.
ADVANCED DISPOSAL SERVICES, Inc. (NYSE: ADSW)
Corporate Office
90 Fort Wade Road, Suite 200
Ponte Vedra, Florida 32081
T: (904) 737-7900
F: (904) 636-0699
  |  Advanced Disposal Milestone Timeline
For more information visit – www.advanceddisposal.com/