Zen Wellness, Patterns to Recycle Stress
Wednesday, May 20, 2020 at 2:30 PM (EST)
"I'm not an artist. I can't draw anything, not even a stick figure."  Then this meditative and abstract art class is just for you.  Why? Because no experience is required.  Join award-winning artist and Certified Zentangle Teacher (CZT), Miriam Zimms, as she leads us step-by-step through a meditative art method ($35 value) that reduces stress and anxiety and is just plain fun. How can art aide me professionally? Any art form (drawing, painting, dance, instruments/music, etc.) allows your mind skills to continually adapt in an age in which both technical and soft skills (left brain – right brain) are required to succeed. Creative people are leading the way in innovation in the work force.
The Zentangle Art Method is an easy-to-learn, relaxing, and fun way to create beautiful images by drawing structured patterns. We call these patterns, tangles. You create tangles with combinations of dots, lines, simple curves, S-curves and orbs. These simple shapes are the "Elemental Strokes" in all Zentangle art. Whether you are a seasoned artist, or never drawn anything before, Zentangle holds no boundaries for anyone because "anything is possible one stroke at a time."
You can follow Miriam at @HIPsterCZT on InstaGram for examples of this art form and her art work.  Miriam's art has been featured at local Art Galleries and Festivals across Florida, including, but not limited to: Gasparilla Festival of the Arts, FL State Fair, Moffitt Cancer Center, State Capitol Building, Kotler and @2902 Art Galleries.
What tools will you need to participate?
Plain white paper (2 pieces).
Pencil.
Black or blue ink pen.
Blending stump (or Q-tip).
Your imagination.
Colored pencils (if you have them).
Speaker:
When:
Wednesday, May 20, 2020 at 2:30 PM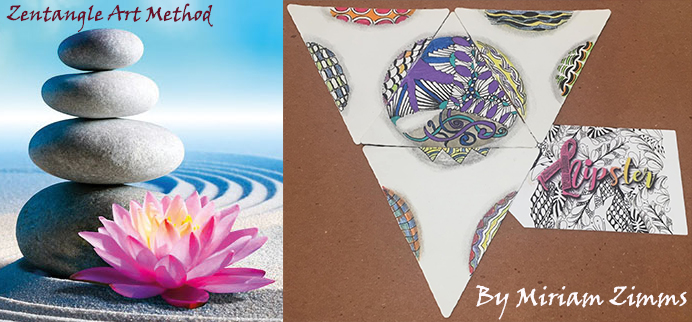 FREE for Recycle Florida Today, Inc. members.
Not a member? Your first webinar is complimentary. Click here to join RFT today!