See how some of our members are celebrating America Recycles Day 2016.  To join in on the celebration view some of the activities taking place below or find your own activity to participate in by visiting:  America Recycles Day at http://americarecyclesday.org/

Jennifer S. – Pasco County

Pasco Upcycle Festival
~ Reducing waste becomes a family event ~
 NEW PORT RICHEY, FL — The second annual Pasco Upcycle Festival event will be held in November.  The purpose of the Pasco Upcycle Festival is to reduce waste by changing peoples' perceptions of what can be salvaged into not only something useful, but often times a work of art.
The event is scheduled for Saturday, November 12th from 9 a.m. to 3 p.m. in Sims Park located at 6431 Bank Street in New Port Richey.  Sims Park has recently been renovated and is an amazing venue to hold the event at.  There will be no admission to enter the festival.
Many people hear waste reduction and think of the standard household recycling of aluminum cans at the curb, but the options are much broader than that.  Many things can be reused to reduce the amount of waste in our environment.  There is a term for the ingenious process of reinventing something with a new purpose: upcycle.
"This year is going to be amazing," said Kristen King, Keep Pasco Beautiful Coordinator.  "We are thrilled to have over 60 vendors registered."  There will be numerous upcycle vendors with items such as pallet furniture and spoon bracelets.  Additional vendors will include animal rescues, farmers market, and food trucks.  Live entertainment will start at 9:30 am with The Buskrats, followed by Clemons Road at 12:30 pm.  There will also be activities for children to participate in.
This event is a partnership between Keep Pasco Beautiful and Pasco County.  For more information call (727) 856-7252 or email info@keeppascobeautiful.org .
For more information on Keep Pasco Beautiful go to the following link:
http://keeppascobeautiful.org/
For more information about recycling in Pasco County:
http://www.pascocountyfl.net/index.aspx?nid=181
---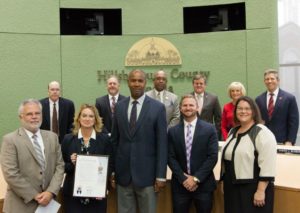 Travis B. – Hillsborough County

On Wednesday, November 2nd the Hillsborough County Board of County Commissioners gave a proclamation recognizing Nov. 15th as Recycling Day in Hillsborough County.
Additionally we are publishing the attached Newspaper in Education (NIE) publication as a 16-page full color insert in the November 13th Sunday Edition of the Tampa Bay Times.  The NIE will also be distributed to all high school science classes in Hillsborough County Public Schools and our staff will give them to students at multiple elementary and middle schools on November 17th as part of the Great American Teach-In.