Employment Opportunity
---
Waste Alternatives Specialist
Employment Opportunity
Two (2) Vacancies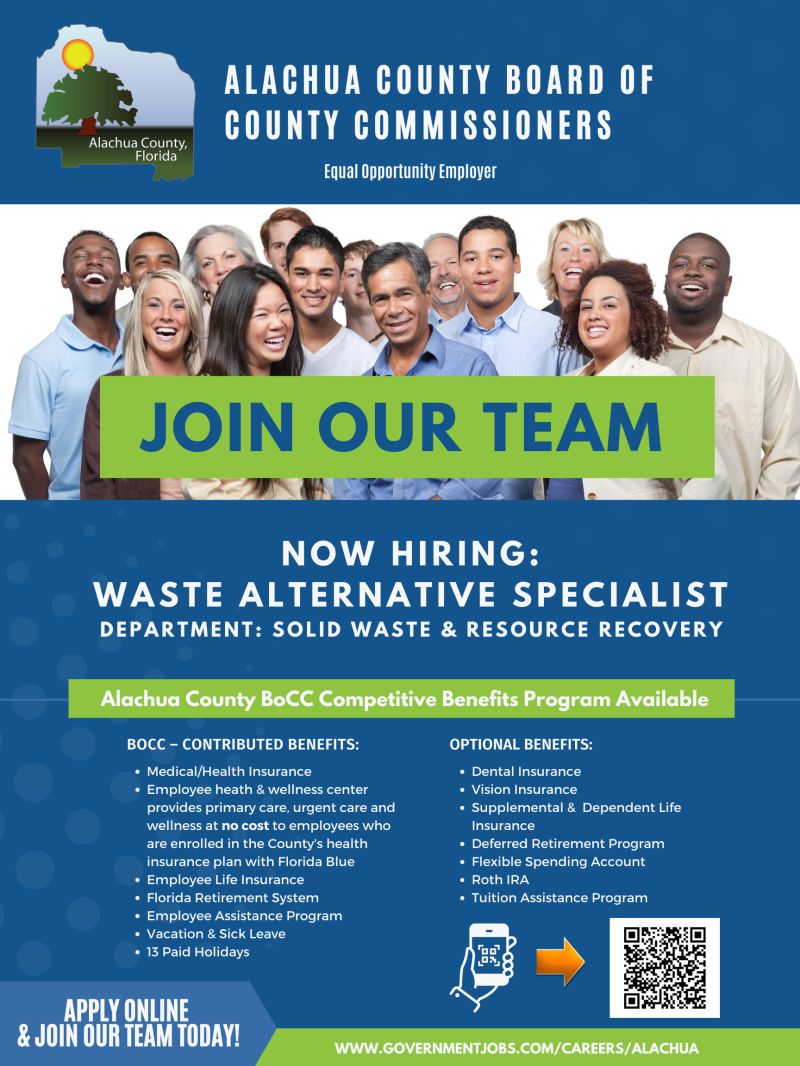 Position Summary
This is responsible, professional public contact work with the Alachua County Waste Alternative Education Program in the Solid Waste and Resource Recovery Department.
This is an emergency essential classification. Upon declaration of a disaster and/or emergency, all employees in this classification are required to work.
An employee assigned to this classification provides public education, outreach, and informational programs to assist the County in meeting recycling and waste reduction goals.
Work is performed under the general direction of a higher-level supervisor and is reviewed through conferences, reports, and observation of results obtained.
Essential Job Functions:
Exudes a positive customer service focus.
Advocates building organizational culture through aligning decisions with core values including:  integrity, honesty, respect, diversity, innovation, accountability, and communication.
Provides public education presentations for school groups, businesses, and organizations; promotes waste reduction, recycling, litter prevention, and resource conservation.
Designs and implements relevant positive education and outreach techniques using science-based information to increase awareness and influence behavior change.
Hosts 'informational tabling' at community events, fairs/festivals, and various locations throughout the County.
Leads engaging and informative facility tours.
Produces professional quality, creative, visually pleasing, and informative communication materials using various media resources.
Maintains program equipment, supplies, inventory level, organization, and cleanliness.
Receives, sorts, organizes, and displays donated supplies at the Tools for Schools creative reuse center and the Tools for Schools Mobile Unit.
Assists the work team with conducting school supply drives, contacts businesses to participate, and aids Alachua County Public School teachers with obtaining free teaching materials through the Tools for Schools program.
Performs on-site waste audits, and provides waste reduction/prevention consulting services for businesses, multi-family complexes, institutions, and schools.
Remains current on solid waste and recycling management innovations, new techniques and technologies, product markets, trends, and solid waste management legislation.
Plans and conducts special recycling events for materials such as telephone books, Christmas trees, and waste tires.
Drives a County vehicle and/or personal vehicle to work sites in order to perform required duties.
Performs the duties listed, as well as those assigned, with professionalism and a sense of urgency.
NOTE: These examples are intended only as illustrations of the various kinds of work performed in positions allocated to this class. The omission of specific statements of duties does not exclude them from the position if the work is similar, related or a logical assignment to the position.
KNOWLEDGE, SKILLS AND ABILITIES
Considerable knowledge of businesses in the Alachua County area and the wastes they generate.
Considerable knowledge of recycling, waste reduction methods, and litter prevention.
Knowledge and understanding of the professional use of social marketing/media tools, basic analytics, and public relations strategies to drive traffic and increase online engagement.
Skill in public speaking and presentations.
Ability to collaborate and network with other professional organizations, agencies, and educational institutions on program opportunities.
Ability to work independently and as part of a team.
Ability to collect, compile, and analyze data; ability to generate comprehensive and concise reports.
Ability to communicate with outside agencies in a professional manner and create a positive environment for their participation in waste reduction programs.
Ability to communicate effectively both orally and in writing.
Ability to establish and maintain effective working relationships with supervisors, co-workers, outside agencies and the general public.
PHYSICAL DEMANDS: The physical demands described here are representative of those that must be met by an employee to successfully perform the essential functions of this job. Reasonable accommodations may be made to enable individuals with disabilities to perform the essential functions.
While performing the duties of this job, the employee is regularly required to talk or hear. The employee is occasionally required to reach, grasp, and lift items up to 30 lbs.
WORK ENVIRONMENT: The work environment characteristics described here are representative of those an employee encounters while performing the essential functions of this job. Reasonable accommodations may be made to enable individuals with disabilities to perform the essential functions.
While performing the duties of this job, the employee regularly operates a motor vehicle, the employee occasionally works near moving mechanical parts, and is occasionally exposed to fumes or airborne particles, and outdoor weather conditions.
The noise level in the work environment is usually moderate.
Minimum Qualifications
Bachelor's degree in business administration, environmental science, or related field and one year of public contact experience; or any equivalent combination of related education, training, and experience. A valid Florida Driver License is required and a Motor Vehicle Record that meets the requirements of Alachua County policy # 6-7; Motor Vehicle Records will be reviewed prior to employment.  If in the past 24-month period, the record shows more than 3 moving traffic violations, and/or a conviction/pending charge for driving under the influence, the minimum qualifications are not met for the position.  Successful completion of a criminal history background investigation is required prior to employment. Applicants within six months of meeting the minimum education/experience requirement may be considered for trainee status.
Acceptable Education and Experience:
Bachelor degree (4) + 1-year related experience listed above = 5 years or
Associate degree (2) + 3 years related experience listed above = 5 years or
High School diploma or equivalent + 5 years related experience listed above = 5 years
Additional InformationAgency Alachua County
Address 12 S.E. 1st Street, 1st Floor
Gainesville, Florida, 32602-2877
Phone (352) 374-5219
Want to place an employment ad within the RFT network? Download our Employment Posting Application placement form.
RFT Employment Listing

Do you have an employment opportunity that you would like to broadcast to environmental professionals in Florida and beyond?  Recycle Florida Today, Inc. (RFT) can help broadcast your professional listings to our direct and extended network; to gain maximum exposure in helping you enlist the ideal candidate.
Job postings submitted to RFT can choose to receive any or all of the following benefits for a nominal fee of only $250 per listing.  Submissions will be published in the following medias below.
Employment ad listings include: 
RFT website – www.recyclefloridatoday.org; minimum one (1) month duration;
Our social media networks – LinkedIn, Twitter and Facebook; two (2) shares each on all three media feeds for one (1) month;
Via our next upcoming Renewable e-Newsletter (if applicable); and
One (1) direct email blast to membership.
Only $250 per ad placement
Download an ad placement form by clicking here or contact RFT for more information.