Raccoon Nation –Public/Private Organics Bin Initiative by the City of Toronto
Raccoons are prevalent throughout North America and our Canadian counterparts have taken a direct initiative to keep out the nuisance animals while trying to increase diversion efforts directly from the organics stream at residential households.  As Florida looks to increase diversion in a variety of ways, let's take a quick look at how the City of Toronto underwent a massive initiative to increase their diversion efforts in their organics collection program through public/private focused efforts.
The Green Bin Program began in 2002 and was rolled out over four years throughout the City of Toronto.  Nearly 10 years later in 2012, the city decided to take what they had learned and create a better experience for their roughly 500,000 residents.  This is their story in short format!
The Green Bin Program uses rolled bins that are utilized for the disposal of organic household waste, including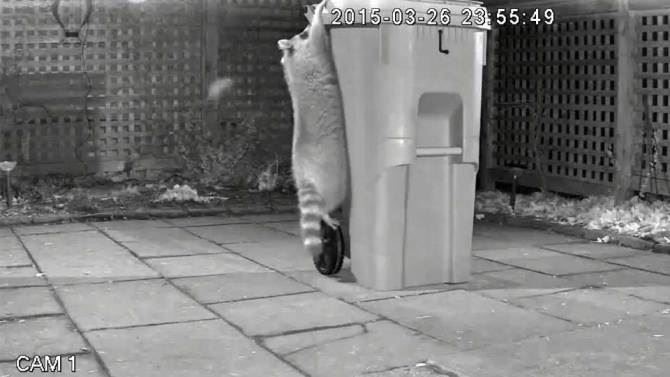 leftover food scraps and by-products of food preparation. Lesson one learned over the first 10 years is that raccoons seek the green bins as a major food source, resulting in a significant population increase and further exacerbating existing issues.  Raccoons are considered pests and pose a public health risk as they are carriers of diseases such as rabies and roundworm. Additionally, their intrusions into green bins result in messes that residents and the city must clean up.  Implementation of the solution was primarily meant to benefit the residents of Toronto for easier curbside collection, although the expected reduction in raccoon populations was a direct byproduct of the City's efforts.
While the original green bins have been effective in increasing diversion, the replacement of the existing bins provided an opportunity to make improvements, including making adjustments to the bins.  Through a systematic process that included research, resident surveys, independent consultant analysis, in field testing, public outreach and an open forum RFP process, the City was able to truly understand their needs and clearly define their objectives to potential bin producing companies.  Initial objectives included containers that would:
Be easier to use for residents;
Be rodent resistant, especially for raccoons;
Be suitable for automated collection to align with garbage and recycling collection, which was automated in 2008.
Improve efficiency (reduce number of collectors required on a manual truck)
Reduce safety risk and worker's compensation claims by transitioning to a fully automated program
Due to capital cost and the 10-year investment, Solid Waste Management Services felt it prudent to conduct an outreach with the public and bin manufacturers, to ascertain an understanding of any issues or concerns that may have been experienced when using the existing green bins during the contract term of 2002-2012.  This proactive approach to their RFP allowed the city to meet the residents' needs while at the same time setting realistic expectations with manufacturers.
Step one consisted of a public outreach campaign in the summer of 2012 by an independent research firm to conduct research amongst residents who currently use a green bin for organics collection. This survey was intended to collect feedback concerning the current green bin and investigate opinions and satisfaction regarding the size of the current bin, rodent resistant, durability and the ability to wheel the bin to the curb.  Interestingly enough respondents mentioned that rodent resistant is the most important feature of their green bin (67% percent indicated extremely important).  Enter the black eyed bandit!
In December 2012, Solid Waste Management Services staff invited bin manufacturers to discuss various issues surrounding the next generation green bin.  Each of the manufacturers received a list of the same questions to which they were required to prepare responses and to discuss the size of the green bin, automated lifters function, raccoon latch, and manufacturing time lines.  This open forum allowed the city to better understand what truly was and was not realistic based on the feedback from their residents.  Once relevant conversations were had, the RFP was distributed to participating firms.
The work was now just beginning. A stringent evaluation process was created that included not only initial reviews of the RFP responses but a series of steps were created as part of the evaluation process.  Not only were design concepts submitted and reviewed but actual prototype samples had to be submitted throughout the evaluation process.  After review, the City identified deviations from their specifications that may impede the function of the green bin.  Proposers that were selected to move forward then entered Step 3 of the evaluation process – Technical Review.  Scores were reset to zero for the proposers that qualified and the true testing began.  Raccoon nation was about to put the prototypes to the ultimate test.
Most intriguing to the process was Step 3 as it specifically included an animal behavioral specialist assessment and field testing with containers by those determined raccoons.  Containers were put through rigorous testing by these animal bandits and only the strong survived!! The raccoon resistant latches and lids were tested over and over to evaluate the effectiveness of the proposers' lids.  In addition to our animal friends, the City also reached back out to their residents to get additional feedback with specific focus groups on overall design, ease of use, storage capability and effectiveness against Raccoon Nation.
After a 3 year endeavor of research, public outreach, private company interviews, evaluations, prototyping and raccoon testing, the City of Toronto finally selected a vendor to complete the massive 500,000 container revamp.  The City is currently in the middle of rolling out the new containers and related program to their residents and is excited for continued feedback.  With each new container delivered and put into use, residents can rest easy knowing that raccoon nation's plan to overtake City streets is being conquered.
See it in action: https://www.youtube.com/watch?v=7Rj17i7_Nkw
– Rob Eck, Rehrig Pacific