We Have a Winner!

Recycle Florida Today, Inc. Environmental Sustainability Award
In June, Recycle Florida Today, Inc. (RFT) celebrated three lo   cal programs for their outstanding waste reduction and recycling efforts, as finalist for the Recycle Florida Today Environmental Sustainability Awards, R.F.T.E.S. for short.  The R.F.T.E.S. award displays outstanding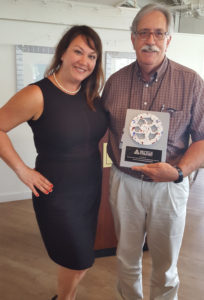 programs and/or businesses in the field of recycling and environmental sustainability.  Pursuing significantly increased awareness and the ability to motivate others to maximize their recycling, composting, grass-roots efforts, waste reduction, sustainability efforts and improving their recycling rates through education, outreach and by example.  This year's finalist were Brevard County Solid Waste Management, Gasparilla Music Festival, and Sustainable Tallahassee.  To read more on each program visit – https://recyclefloridatoday.org/2017-r-f-t-e-s-award-finalists/
We Have a Winner!
Sustainable Tallahassee is our 2017 R.F.T.E.S.'s award winner for "Outstanding Recycling Program or Event".  A little about our winner, Sustainable Tallahassee (ST) is a nonprofit organization that promotes environmental stewardship and economic vitality through education and collaboration. In the ST presentation prepared for Recycle Florida Today's (RFT) Environmental Sustainability Award (https://recyclefloridatoday.org/wp-content/uploads/2015/01/Sustainable-Tallahassee_-Greening-the-Community.pdf), RFT members are able to see ST's strides in greening the community through recycling education and "greening" efforts for major events. However, ST expands to include even more beyond waste-reduction; empowering their community members to envision their greatest ideas for the Tallahassee regional area through their targeted committees, which cover varied issues, include energy, local food,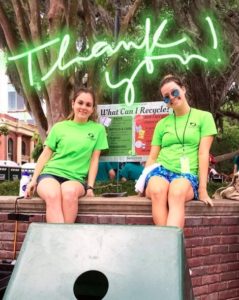 transportation, and green business.
The Community Carbon Fund (CCF) committee, for example, uses donations to invest in carbon reduction projects that decrease the community's greenhouse gas emissions. The requested donations are calculated by ST's Carbon Footprint Calculator from an individual's carbon impact into a dollar amount. CCF directly benefits the Tallahassee community because, unlike national carbon offsets, these projects are all local: installed by local contractors for local nonprofit organizations, so they are able to divert more of their funds towards serving local people.
Furthermore, the work of ST's Renewable Energy committee was highlighted during the groundbreaking of Tallahassee's first 120-acre solar farm on May 30, 2017, where Sustainable Tallahassee was recognized by the city commission for playing a pivotal role in advocating for this solar energy project. Finally, the Rags 2 Bags group under our Three R's committee meets once a week to sew donated fabric into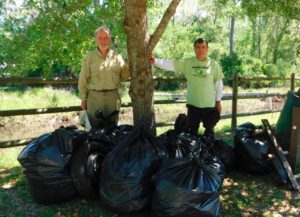 uniquely beautiful reusable bags and then donates the bags to educate community members to educate about the harmful effects of plastic bags. These are just a few of the ways ST strives to implement progress toward a cleaner, more efficient future for the Tallahassee regional area. For further information, visit sustainabletallahassee.org, email admin@sustainabletallahassee.org, or call 850-597-9836.
Sustainable Tallahassee accepted their award at our 2017 Annual Conference and Exhibition, held June 11-13 at the Hyatt Regency Sarasota.  Join us in congratulating all our finalists and this year's winner and review each of their programs online at:  https://recyclefloridatoday.org/2017-r-f-t-e-s-award-finalists/